Participate in a unique wine tasting event
Come and discover or rediscover the Valley of La Sagne and the Ponts de Martel on board the lounge car! While travelling through a typical Neuchâtel landscape, discover the region's producers!
Whether you're going out with friends, doing something with your colleagues or just passing through the region, this is an event not to be missed!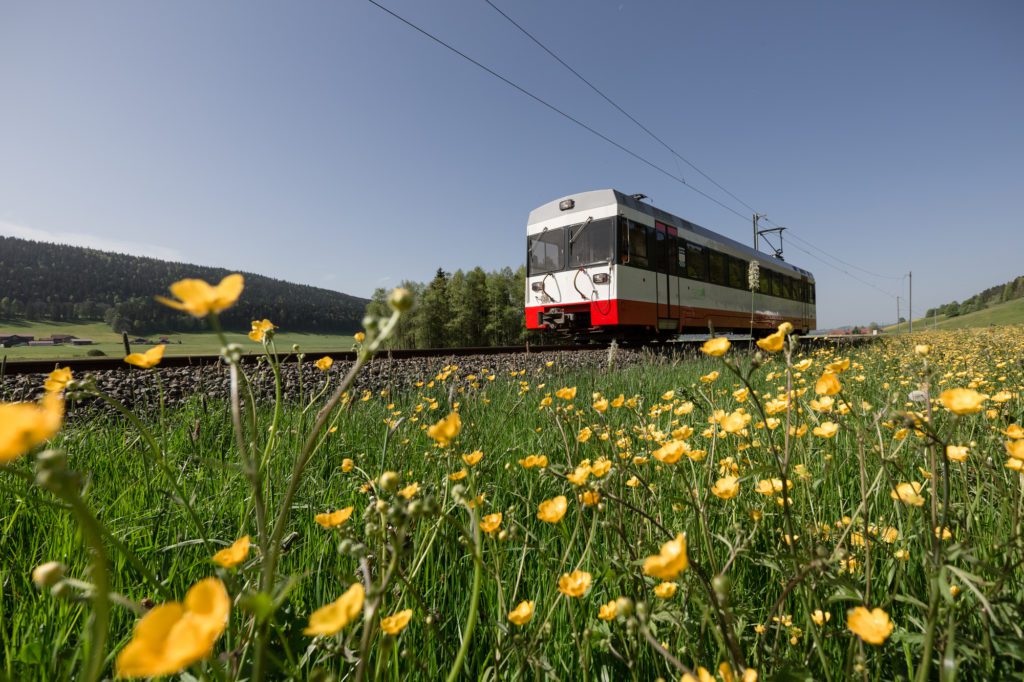 Useful information
Departure and return:
La Chaux-de-Fonds departing at 18:04 on platform 2.
Return at 19:56 for the aperitif option and 18:56 for the option with meal which will take place in a restaurant in La Chaux-de-Fonds.
Validity of the pass :
24-hour pass for all zones ONDE VERTE included with your ticket for the train du terroir
Tariffs :
Train du terroir with an aperitif
Train du terroir followed by a dinner
Book your seats now
Thursday, April 27th
Wine tasting of
Domaine Divernois saccompanied by a sumptuous aperitif served on the train
Thursday, May 25th
Tasting of wines from
Caves de la Béroche
Dinner at Restaurant le Numéro 9 in La Chaux-de-Fonds
Thursday, June 29th
Tasting of wines from
Nicolet Wines accompanied by a delicious aperitif served on the train
Thursday, July 27th
Tasting of wines from
Caves de la Ville de Neuchâtel accompanied by a rich aperitif served on the train
Thursday, August 31st
Tasting of Neuchâtel wines presented by the Château de Boudry accompanied by a rich aperitif served on the train
Thursday, September 28th
Wine tasting of
Domaine de la Ville de Berne
Dinner at Restaurant le Numéro 9 in La Chaux-de-Fonds
Thursday, October 26th
Tasting of wines of
Porret accompanied by a delicious aperitif served on the train
Thursday, November 30th
Wine tasting of
Domaine Hôpital Pourtalès
Dinner at the Restaurant Halle des Sens in La Chaux-de-Fonds